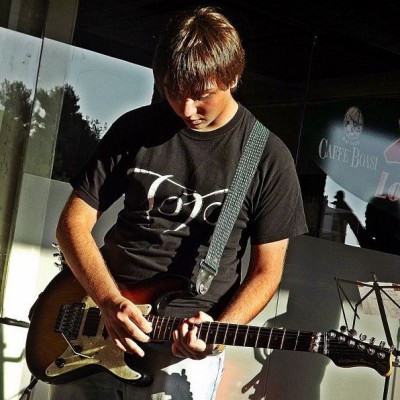 Played instruments: Electric Guitar, Acoustic Guitar, Classic Guitar
Spoken languages: Italian
Country: United Kingdom
---
Biography
Born in Genoa on August 27, 1995, from an early age I was routed by my father Franco (guitarist of "Ricchi e Poveri", Sandro Giacobbe and a student of Armando Corsi) to the study of music in all its facets. As a result, it has not been a day without enriching me musically (Frank Zappa, Toto, Bill Evans, Chick Corea, etc.)

Through his colleague Bruno Santoro I have been able to attend musicians of national fame as Danilo Madonia (producer and arranger of many Italian artists including Renato Zero and Ramazzotti), Andrea Maddalone (current guitarist of the Genoese band "New Trolls", arranger and producer of many artists including Mario Biondi) Vittorio and Aldo De Scalzi (singer of the New Trolls and both composers of soundtracks) and many others.

At the age of 12 I participated with the song "With a smile like that" (written and arranged by Bruno Santoro and later re-covered by Giorgia Cadenasso) to an episode of "I fatti tuo" presented by Giancarlo Magalli on Rai 2 and 14 I accompanied a singing performance by Gerry Scotti.

I am a guitarist in the "Bruno Santoro Band", (role previously held by my father) with whom I also work in the studio. I can therefore say, notwithstanding my young age, to have experience not only as a performer but also as a "stage man", with a good ability in setting up the stage, including the use of the Mixer, the setting of the sounds and a strong versatility in different musical genres.

In June I will graduate at the three-year course of "GUITAR DIPLOMA CONTEMPORARY" at the "Centro Professione Musica" (CPM) in Milan (founded and directed by Franco Mussida, guitarist of the famous Italian group PFM). Among my teachers I mention Pietro La Pietra, Massimo Colombo, Flaviano Cuffari, Giulio Corini, Giuliano Lecis, Daniele Moretto, Massimo Cherubin and Pancho Ragonese.

For some time now I have been taking care of other aspects of the musical world. Home Recording is the one to which I approached with greater professional commitment by setting up in detail my recording studio. I dedicate myself to the production, composition and arrangement of pieces and during the auditions I follow the artist in all the stages of his technical preparation: from writing the text to the composition of the melody, from the choice of the sounds to the actual arrangement, from the realization of singing to choirs.

I also played with Mirko Pedroni (Guitar & Voice), Nkem Favor Nwabisi (MIA, vocals), Mario Dellacasa (drums), Marco Morini & Renato Rosset (Piano and keyboards) Francesco and Giorgio Bellia (bass and drums respectively), Emanuele Rivara (drums) and Roberto Bricchi (bass).
---